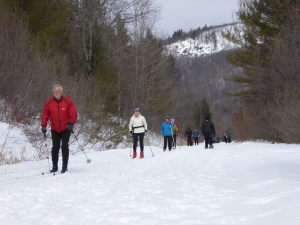 Time Again to Get Ready for Winter along the Rail Corridor – a Call for Volunteers!
Snow is not too far away! And once it comes, the rail corridor will transform, as it has for the past 10 years, into a beautiful ski and walking trail along the river.
But this only happens thanks to the efforts of volunteers who clear out obstructing weeds and brush before that snow flies. If you have free time in the morning on Saturday November 12th or 19th, and would enjoy some exercise, comradery, and being plied with goodies and coffee, see this call for volunteers for more information and to sign-up.
This year will also bring another installment of historical signage along the trail, this time focusing on "New Chelsea" – the area around Mill St, including Chelsea's first schoolhouse and train station.
Sponsors play a key role in making all this happen. SCT is grateful for the generous donations from the Chelsea Pub, Greg Christie's Ski and Bike, Lafleur de la Capitale, Physiosport Chelsea, and the Nordik Spa. Funds will be used for the signage and to offset a significant portion of the costs of winter grooming.
Many seniors in our community have written letters to SCT to tell us how the winter trail helps them to exercise in winter – the trail is remarkably flat and level once the snow is packed down, making it a safer option for a stroll than the narrow roads in nearby neighbourhoods. There have also been reports of people skiing to Freshmart for groceries. What a life in Chelsea!