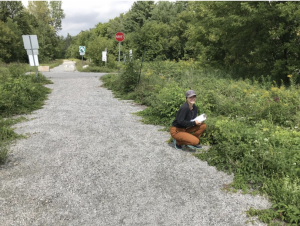 Our summer student, Celeste Landon, performed a survey of noxious and invasive plants along the Chelsea Community Trail.
Celeste Landon is an environemntal science student at Simon Fraser University. As such, she is very well suited for this task. Celeste walked the entire 21 km length of this trail. She took GPS coordinates and various statistics at each incidence of a noxious plant.
Plant Type
A sample of her data and some preliminary results are Noxious Plants – Top 5 Highest Incidence Rate
shown. A final report will be available in October. This report will use the results of this study to recomend management practices.
PRELIMINARY RESULTS – TOP 10 HIGHEST INCDENCE RATE
Incidence Incidence
per km
Gout Weed Aegopodium podagraria
Manitoba Maple Acer negundo
This is a joint project between Sentiers Wakefiled Trails, Sentiers Chelsea Trails, and Voie Verte Chelsea.
Mean Area Per Patch
Buckthorn Frangula alnus
Coverage per km
Poison Ivy Toxicodendron radicans 101 Purple Loosestrife Lythrum salicaria
2.2
Common 1.5
26
Stinging Nettles Urtica dioica
Japanese knotweed Reynoutria japonica
45
Ragweed Ambrosia artemisiifolia
31291.3
12 81.4
Note: These are preliminary results. A final report will be available in October 2020. 
4.9
29 Virginia Creeper Parthenocissus quinquefolia
39 sq m Dog Strangling Vine Vincetoxicum rossicum
25130.6 0.4
Poison Ivy
Purple Loosestrife
Virginia Creeper
Common Ragweed
Buckthorn
AREA SHOWN
0.6
51 sq m
248 sq m
49 sq m
108 sq m 1.9
1 628 sq m
2 999 sq m 1 461 sq m
2 195 sq m 905 sq m
1 273 sq m 35 sq m 1.2
17 sq m
20 sq m 11 sq m
7 sq m 2 475 sq m
1 320 sq m 81 sq m
31 sq m