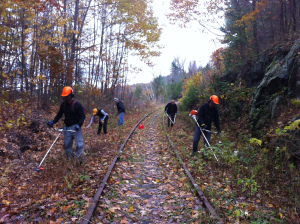 It's the sound of volunteers clearing the trail with bushcutters to make ready for Rob Lafleur's groomers – for yet another wonderful winter of beautiful skiing on the tracks.
Alain Piche of Chelsea Trails is organizing 3 weekend workbees along the tracks. Next one is this Saturday, 31 October. If you're interested in joining us, call Alain for more info: 819-827-3750
Bring your personal safety equipment, work gloves, safety glasses, and pruners if you have them.