These maps show trails owned by the Municipality of Chelsea as well as trails on private property where land owners have signed agreements allowing public use. Please respect land owners and trail neighbours by keeping noise low and staying on the trails. There are no designated parking spaces at these neighbourhood trails.
There are dozens of unofficial trails in Chelsea on private property. Our long term goal is to add these to the network through agreements with land owners or through municipal land acquisition if property is developed.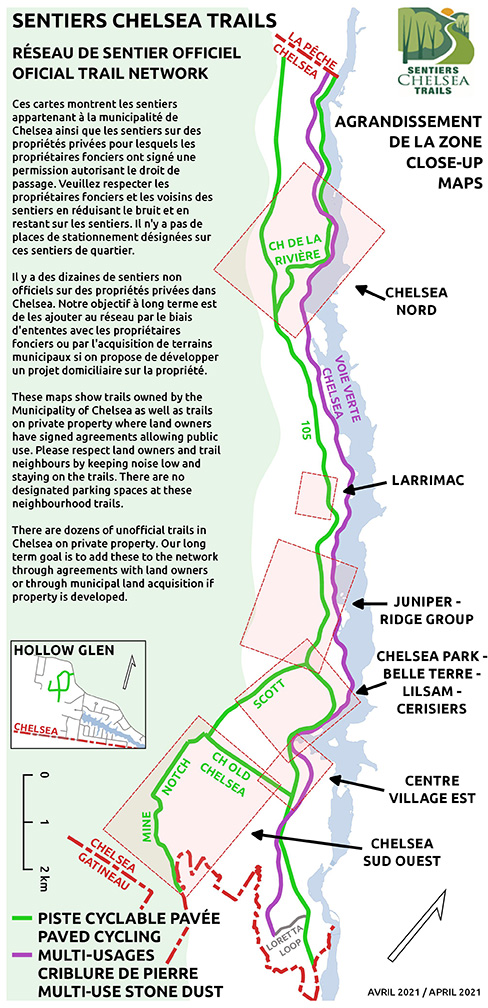 Ces cartes montrent les sentiers appartenant à la municipalité de Chelsea ainsi que les sentiers sur des propriétés privées pour lesquels les propriétaires fonciers ont signé une permission autorisant le droit de passage. Veuillez respecter les propriétaires fonciers et les voisins des sentiers en réduisant le bruit et en restant sur les sentiers. Il n'y a pas de places de stationnement désignées sur ces sentiers de quartier. 
Il y a des dizaines de sentiers non officiels sur des propriétés privées dans Chelsea. Notre objectif à long terme est de les ajouter au réseau par le biais d'ententes avec les propriétaires fonciers ou par l'acquisition de terrains municipaux si on propose de développer un projet domiciliaire sur la propriété.