About Us
SCT is a community based, not-for-profit group dedicated to the preservation and creation of a green trail network linking the village centre, schools and community centres to neighbourhoods and to the natural assets of Gatineau Park and the Gatineau River. Contact us by email at [email protected]
SCT was founded in October 2009 when a small working group of Chelsea citizens got together to look for ways to preserve what remains of Chelsea's rich cultural and historical legacy of trails, and, where possible, to enhance and expand this existing trail system. Officially established as a not-for-profit organization in August 2010, Chelsea Trails has charitable status, a constitution, and a 12-person Board of Directors.
SCT works to give the trail network a stronger voice in our community. SCT promotes active living, active transport and enjoyment of nature. We strive to:
Advocate for the preservation of existing community trails.
Improve active transport options for Chelsea residents and visitors, building on Chelsea's Active Transport Master Plan.
Seek out opportunities to build Chelsea's trails networks through new trails development.
Integrate trail considerations in the development and recreational planning process at the Municipality.
Help turn the Municipality's inventory of raw lands designated for trails into active trails.
Expand the network of trails in a sustainable and environmentally sensitive way.
Active Transport Plan
SCT is always looking for new ways to increase access to active transportation in our community from on road cycling infrastructure to nature paths linking neighbourhoods. We work closely with the Municipality of Chelsea on this goal. Over the past 10 years, Chelsea Trails volunteers have worked on municipal committees, planned trails, presented visions and injected the voice of trail users and cyclists into the municipal process. And we continue to make a difference. 
The potential exists to create and link many more trails in our village, and the Municipality's recently adopted Master Plan for Active Transportation confirms its commitment to further trail development. 
When new sub-divisions are proposed the Municipality requests recommendations from Chelsea Trails regarding potential trail routes and has committed to assisting in surveying and the purchase of trail building materials. 
Public works has improved the network and safety of on road cycle structure   and supported neighbourhood trail building by Chelsea Trails volunteers with materials and tools provided by the Municipality of Chelsea. These trails  provides a walking connection between several adjacent neighbourhoods whose residents would otherwise be dependent on vehicle transportation.
Chelsea Creek Bridge
In the next few years a few hundred families will reside in the centre village and it will be important that they have an access to an active transportation network.  This network will should offer both work related and recreational use that is safe and connect to neighbouring communities.
In following the population growth of the center village Chelsea will need to invest in the development of the Chelsea Creek multi purpose path situated on the east side of the A5 linking Old Chelsea road to the Blvd de la Technologie à Gatineau.  The main challenge on this project will be building a bridge over the Chelsea Creek.  This path will provide a quick access to the Gatineau/Ottawa active transportation network.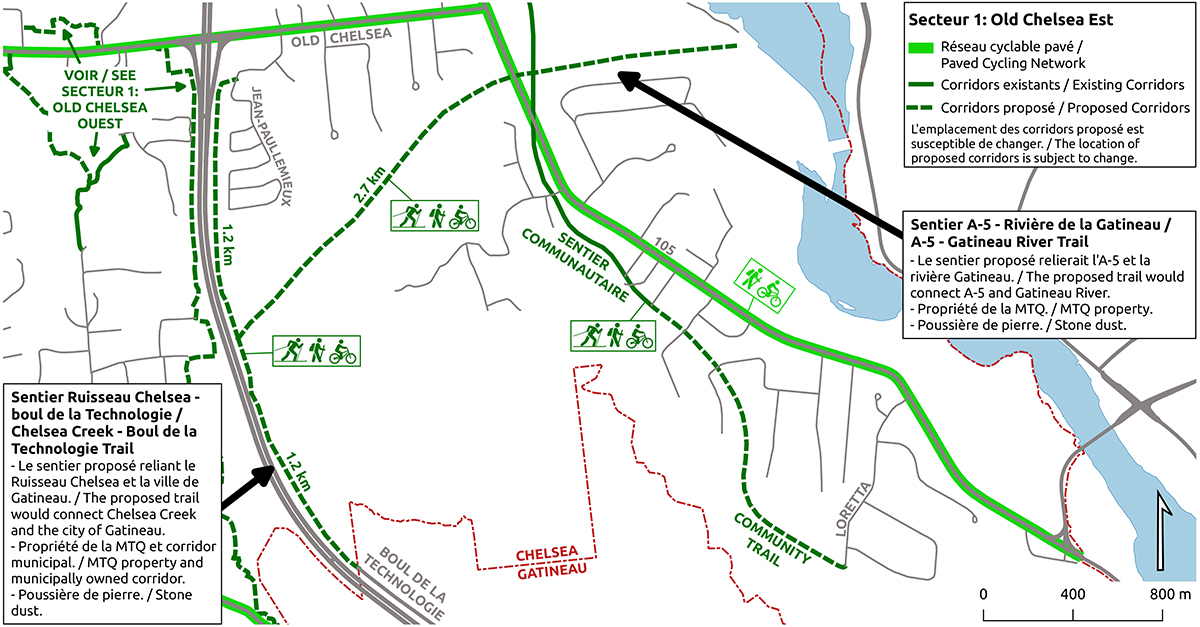 Centre Village Trail Network
The Centre Village Trail project will provide an offroad alternative to residents and visitors wanting to exploring Old Chelsea village.  It will create a walking trail from Padden Rd, across the Padden Lofts property, across the MRC des Collines property to connect with the property of the St Stephen church, chemin Nordik and chemin Old Chelsea. If crossing the chemin Old Chelsea towards the Henderick Farm a walking route would allow a complete loop, a connection with the trail following the ravine south of Old Chelsea road to the NCC parking lot and trail system into Gatineau Park or alternatively back to Chelsea village services.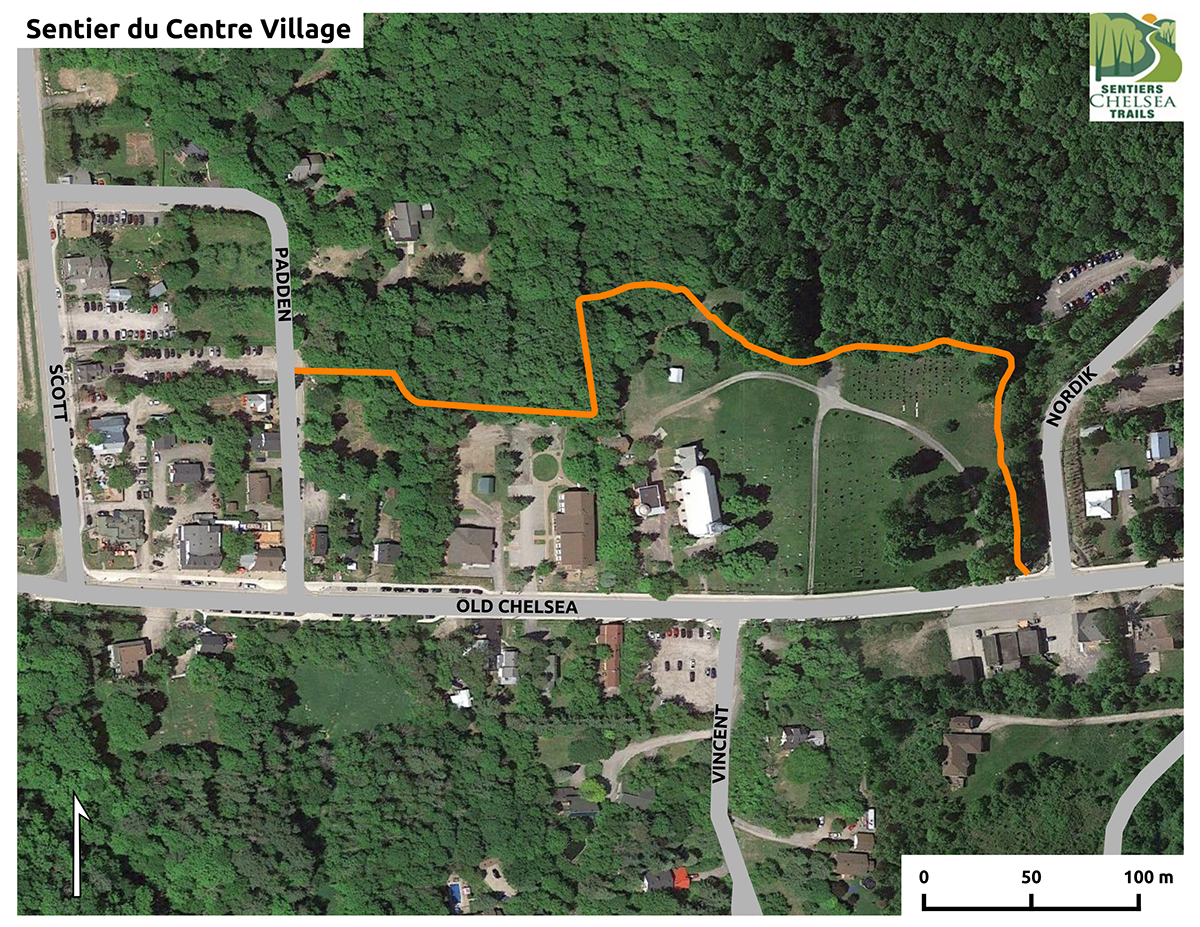 Stories – Community Rail Trail Walking Guide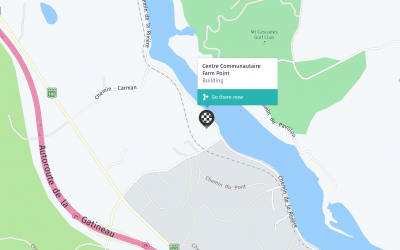 The Annual General Meeting of Sentiers Chelsea Trails (SCT) will take place on Monday, April 6th, at 7pm, at the Farm Point Community Centre. You are cordially invited to join us for a presentation of current and future SCT projects in all sectors of our community.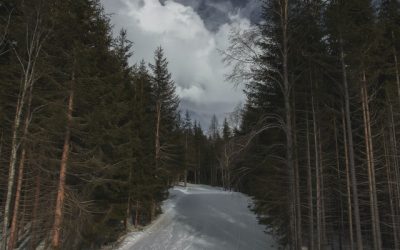 Dear SCT friends, Mark your calendars: January 26 is the date for the Chelsea Ski Challenge under the banner of "Winter Fun Days." It's an opportunity to celebrate the Winter Community Trail. You are invited to come out and enjoy some skiing, walking, fat biking, or...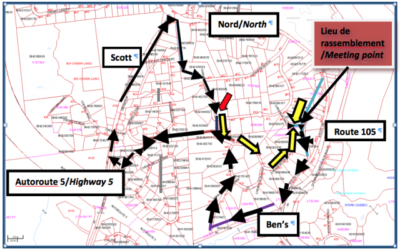 In the context of Chelsea Days, the Municipality of Chelsea invites you to a guided trail walk activity, organized in collaboration with Chelsea Trails. This guided trail walk will take place on June 1st, 2019. Approximately 5.3 km in length, the walk is scheduled to...
CHELSEA, QC, May 1 , 2017 – Tonight, the Chelsea Community Trail Coalition will present the powerful results of a petition to the Chelsea Municipal Council to voice their collective support of a viable recreational option for the former Chelsea rail corridor. The...
Join a Crew
Over the years, hundreds of SCT volunteers have invested thousands of hours to map, build and maintain the trails we use. The vibrant trails culture and trails networks we have in Chelsea could not exist without the dedication, energy and talents our strong volunteer workforce 
We need people to help plan, build and maintain our trails and support the work of our organization in the community so are many jobs to be done.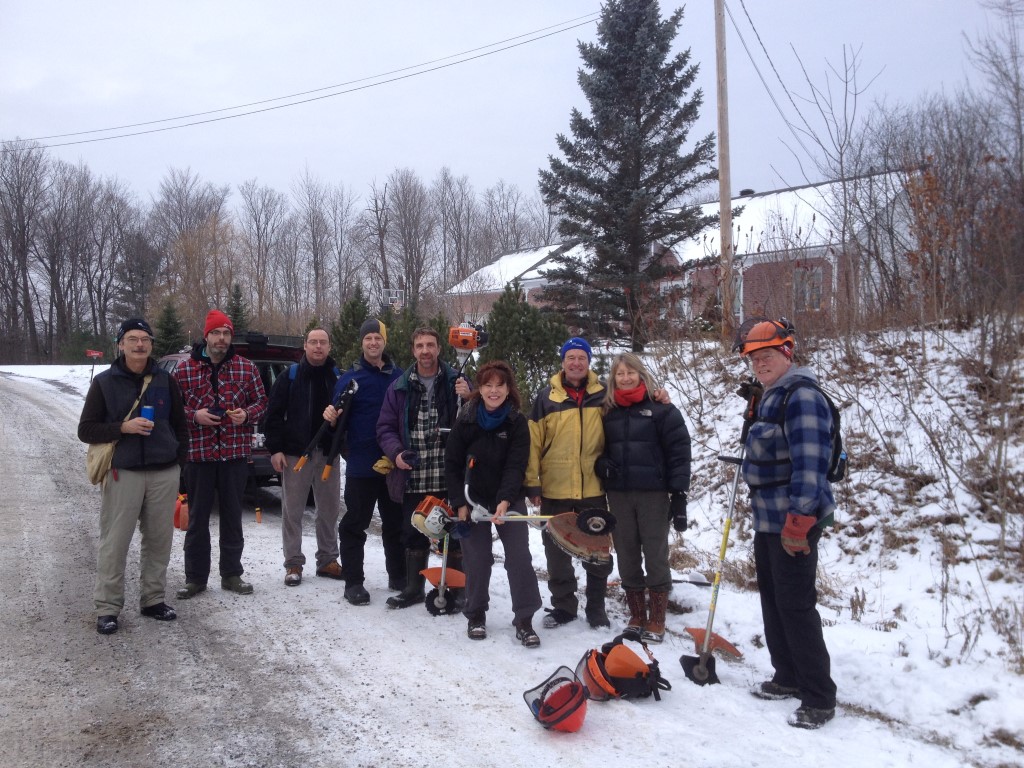 Build a trail trail
For trail planning, we need people for surveying, engineering/technical drawing for structures such as small bridges and to help negotiate land owner agreements.  Trail building and maintenance requires clearing bush, carrying materials, building boardwalks, constructing stone stairs, and installing signs.  For ongoing trail maintenance, there's brush cutting, clearing branches, repairing bridges/boardwalks and signage, and picking up litter that needs to be done.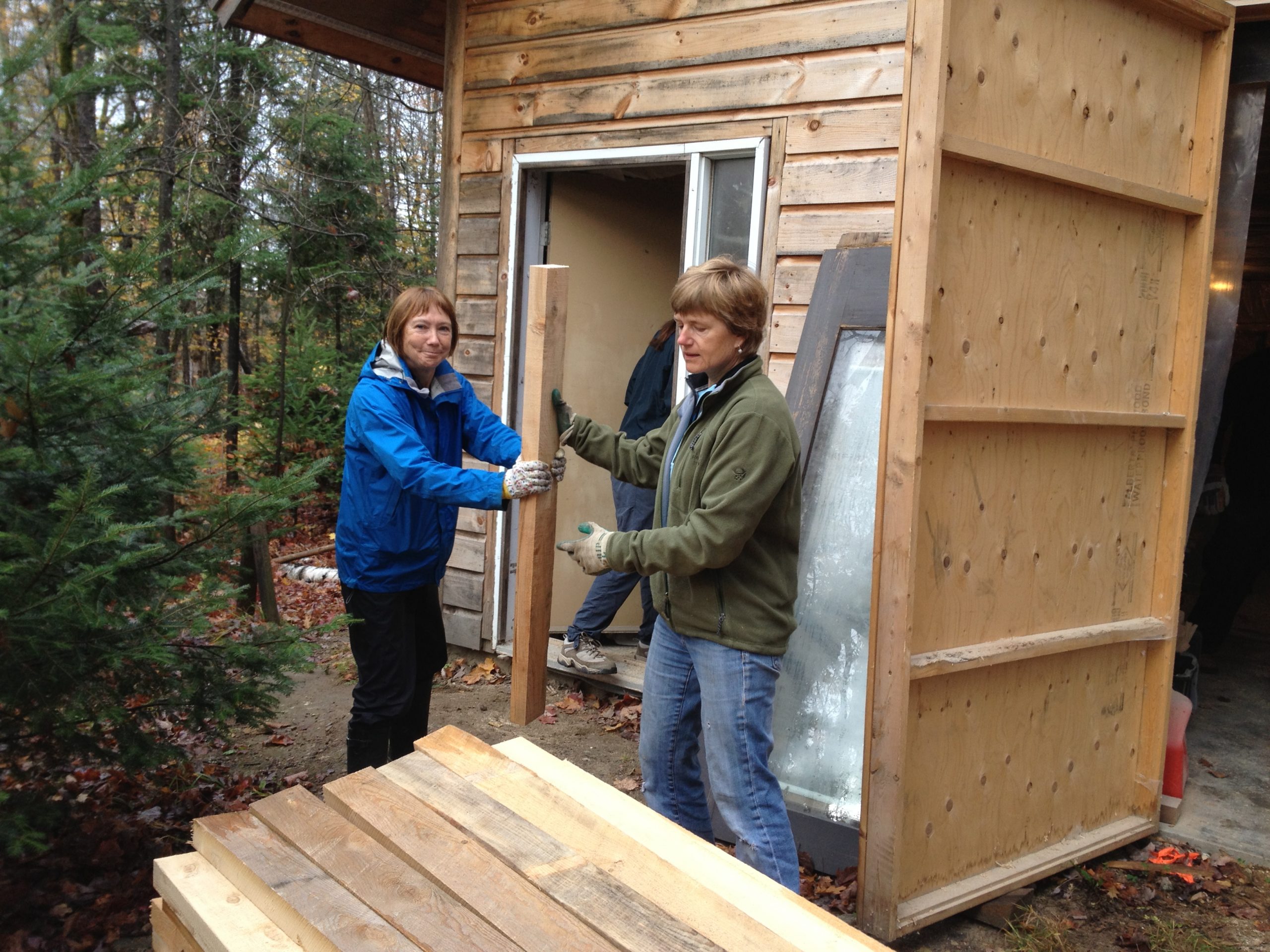 Membership Matters
By becoming a member of Chelsea Trails you are speaking up for the preservation of our precious and historic trails networks, the reduction of our carbon footprint by supporting the connectivity through active transport networks, and  advocacy for future trails infrastructure , and the  the ability to pursue an active lifestyle close to home.
For more than a hundred years, the culture of our village has been defined by the beauty of the  landscape and wildlife of  the Gatineau hills and river.   It is this treasured asset and the  access to the natural worlds and  recreation that  continues to  draw residents and visitors alike.   
In the face of rapid development, we need your voice more than ever to help us build a vision, shape the future, spread the word and keep this trails culture alive and growing within our community.   Please speak up for our environment and our lifestyle and become a lifetime member of Chelsea Trails .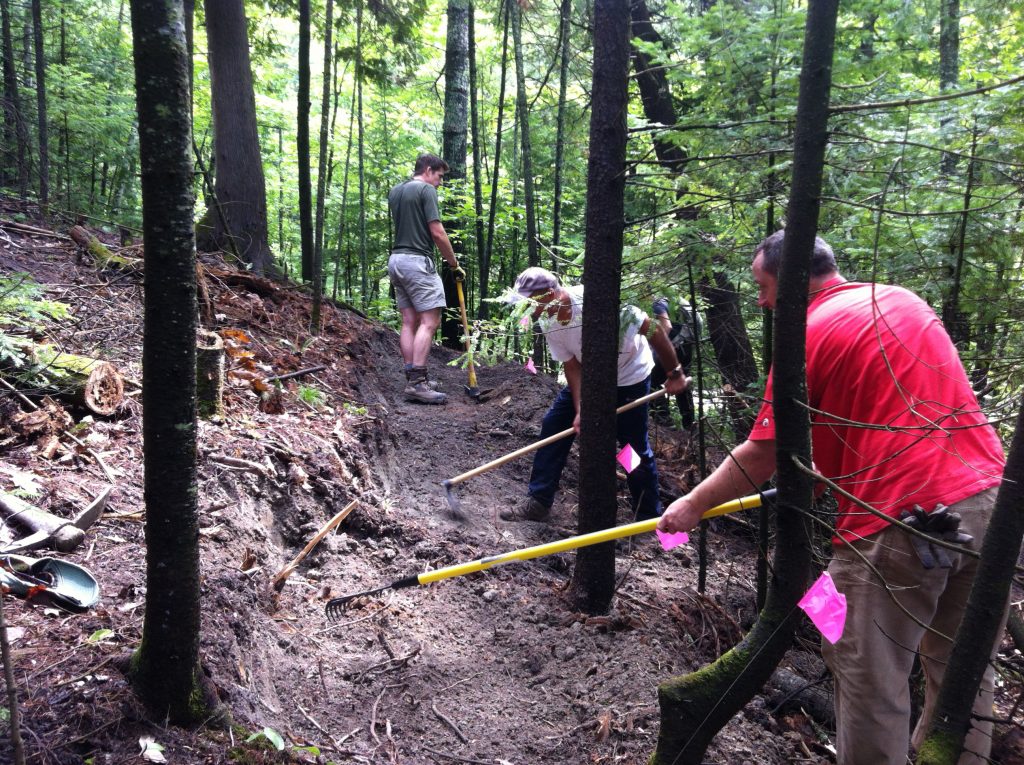 Events & Committees
We hold two annual events so we need event planners, organizers, trail photographers, social media posting, website editing, grant writing, fundraising and other committee work to support our board of directors.